It's a Bar - The Kettle of Fish
a short film by Dave Coleman and David Doyle
Established in 1950, Kettle of Fish remains true to it's
roots, a Greenwich Village neighborhood bar. Through
the years we have welcomed people from all walks of
life. Beat writers like Jack Kerouac, musicians such as
Bob Dylan, sports fans, intellectuals, and your average
Joe or Jane have found a second home at the Kettle.
After opening on MacDougal Street, the Kettle has
moved twice and now resides on Christopher Street
just off Sheridan Square. Our current location features
a main bar and a back room with sofas, tables and
chairs. Along with dart boards, there is pinball, Ms Pacman/Galaga, and Megatouch machines in addition
to a variety of board games. Some say the jukebox is
one of the best in NYC. Whether alone or in a group,
you will feel at home at the Kettle of Fish. Nearby
subway stops include the 1 and 9 at Christopher St.
and the A,B,C,D,E,F,V at W. 4th St.




Jack Kerouac in front of the Kettle of Fish. Photograph by Jerry Yulsman.
Kettle of Fish
59 Christopher St
New York, NY 10014
212-414-2278
Hours
Mon-Fri, 3pm-4am
Sat-Sun, 2pm-4am
Directions
Hopstop
Google Maps

Call for opening times of Packer/Badger games.
"This Greenwich Village watering hole has gone through many incarnations (and locations) since it was established in 1950—but it maintains some of the divey, bookish spirit from the days when it was frequented by Kerouac and Bob Dylan. Pose with the now-indoor neon BAR sign to re-create the famous photo of the writer swaying drunkenly outside the original digs, or simply stop by to revel in the retro basement vibe with a game of darts and a $4 brew (Rolling Rock, Bud or Yuengling)."
- Time Out New York, newyork.timeout.com
A Love Letter to Drinking in Bars
From dingy dives to Old World establishments, watering holes are one writer's paradise.

Read entire article...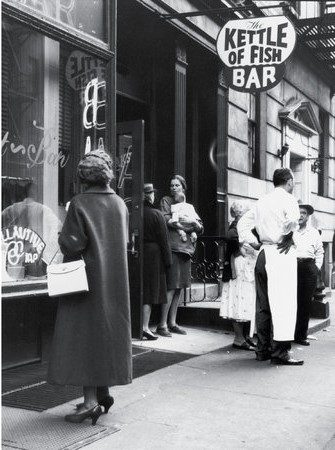 The Kettle of Fish, in Manhattan's West Village, a favorite old haunt of Bob Dylan's.
Kettle of Fish a slice of Wisconsin in NYC
In a city of 8.4 million, the Kettle of Fish can be an escape to Wisconsin, just a subway-ride away.
At this New York tavern, expats and tourists alike find a slice of Wisconsin, in cozy and familiar surroundings: pennants of the Brewers and the old Milwaukee Braves gracing a wall, bobbleheads of Aaron Rodgers and Ray Nitschke looking down from a liquor shelf, a signed photo of Willie Davis expressing "best wishes." Read entire article...
(from Madison Magazine)
A Little Wisco in New York City
Flavors of the Badger state create a unique corner of the Big Apple
The oldest and most casual is Kettle of Fish, a sports bar just off Sheridan Square, down a flight of stairs marked only by a small wooden sign hanging out front. It's got dartboards, New York brews on tap and a history that dates back to visits from Jack Kerouac and Bob Dylan. But more than that, it's been the favorite spot in the city to watch Wisconsin sports ever since former Wauwatosan Patrick Daley bought the business in 1998.
"It's a Greenwich Village Bar with a strong Wisconsin tint," Daley explains. The draught list always includes a beer from Sixpoint, a popular New York brewery that is, as it happens, owned by a Wisconsinite. On game days, patrons enjoy Usinger's brats, aged Wisconsin cheddar from Marathon and summer sausage from Oshkosh. Though Daley has lived in New York for decades, his friendly demeanor and hearty laugh reveal he keeps his home state close to his heart. "My dentist is still in Wisconsin," he explains, "so I get back at least twice a year." Read entire article...
Other Kettle of Fish Press
Huffington Post, Coen Brothers Transform East Village Into 1960's For 'Inside Llewyn Davis'
Time Out New York, Jack Kerouac birthday tour
New York Times, When a Bar Moves, Do Its Patrons Follow?
Time Out New York, 1000 things to do in New York
Zagat, Kettle of Fish Zagat Review
Shecky's, Kettle of Fish Shecky's Review
AM New York, Tracking New York's Literary Spirit
The Villager, Community Handbook 2007
GridSkipper, Beatnik Boozing in New York
City Life, Bull's-eye
New York Post, Hunter S. Thompson Memorial Pub Crawl
Rolling Stone, Norah Jones, Accidental Superstar (cover, page 1+2, page 3)